2022 – The previous year was still a slowdown for Photography, I have worked almost exclusively my private muse. There was one exception, the July outdoor session with Ania, on the summer meadows in Rejentówka.
Only one session with a "othern" model, but what a beauty! Ania posed very boldly the way I like it. Hope this year will bring me more variety of models photographed, we'll see.
---
Marzka, 2022-09-04, plaża Karczew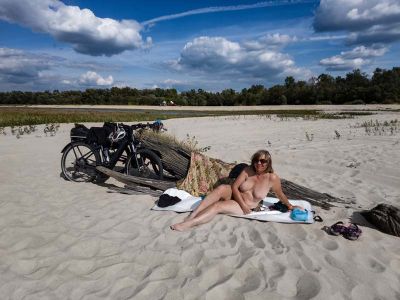 The summer heat is over, but there are still beautiful sunny days. This is the perfect weather for long bike rides.
A friend recommended us to visit a secluded beach on the Vistula River near Karczew. Apparently, it is impossible to get there by car, so we get on our bikes. We found the beach but unfortunately it's not as secluded as we thought. Admittedly, there is a lot of empty space next to us, but there are other people within 200 meters.
M decides to go topless and in such beautiful circumstances we eat our lunch, rest a bit and then continue our journey. We continue along the Vistula River to Góra Kalwaria, where we cross the bridge and enter the city. We rest for a while at the market square, then we had delicious hand made ice cream and went for a quick steep descent to the return route, on the other bank of the Vistula.
We did 95 kilometers that day, nice result and a pretty fun trip.
You can check this trip on Strava .
That was a beautiful day.
---
Today is the last warm day of this summer. It will be chilly from tomorrow.
You have to use it well, so … we rent a kayak and sail!
We already know a bit about the shoreline of this lake, or so we think. We sail to a tiny bay hidden among the reeds. We dock there, eat our lunch, and swim a little.
And do the shoot!
Fortunately, no one interrupts us, we are alone. Half an hour later we pack our bags and continue our journey.
There are still many hours ahead of us.
---
Today we have another beautiful and warm day, even though it is actually the end of summer.
After breakfast, we pack up for the day and go to rent a kayak. Then we go to the lake.
Lake Maróz is already well known to us, but its shoreline still hides interesting surprises.
Today we come across a large birch that recently fell over and fell into the water – it still has a white bark. It is a gutter lake located in a deep valley with steep shores. Trees growing on these shores often fall over to the water.
Marzka comes out of the kayak to swim a bit and cool off. She swims to a submerged tree and I take pictures from a kayak. Just a few photos and I'm quickly joining M – I also need a bit of a cool down on this hot day.
Shooting with a large DSLR from a kayak is not an easy task, especially when the wind blows. I only have one pair of hands and when I shoot the kayak does not want to stand still, it always flows where I cannot photograph. To get into a good position again, I have to put the camera down and everything starts all over again
Fortunately, there are no other kayaks nearby, so we don't have to wet our clothes and we swim in harmony with nature. After a short swim, we return to the canoe and paddle towards our campsite.
---
Swaderki is a beautiful camping site in Masuria, near Olsztynek. We stayed there for the first time in 2015, when a friend recommended them to us. Since then, we have been there almost every year, most often in August. This time our visit was at the very end of the summer holidays, the last week of August.
It is a very clean gutter lake (a few steps from the shore it is already very deep), there is no industry in the area, only fish farms.
The weather is beautiful, sunny, hot, and the water in the lake is very warm.
We take a kayak and swim to our hidden place, a small bay in the reeds, where we cannot be seen from the lake and we can shoot safely.
M puts on her uneven-bottomed outfit, a soft rubber bootie, and starts posing among the reeds.
I take photos, there is also our webcam on the kayak, which records the entire session. It will be available on our patreon, where there are already some backstage movies from other sessions.
We work fast, because we know our habits well, a quarter of an hour later we sit in the kayak again in bathing suits and row along the lake.
I feel that this will not be the last session on this trip.
---
We planned to finish our kayak trip this year in Ukta, but the weather and other circumstances forced us to change our plans.
We got to the place called Zgon and stayed here for the last few days. Zgon is located on a beautiful, large lake, so we did not say goodbye to the kayaks, but stayed at the campsite and swam stationary on Lake Mokre.
That's where we had the opportunity to take a few more photos before the end of this wonderful Masurian week.
The kayak gives a great opportunity to reach places that are difficult to reach from the mainland and there is little chance of meeting people there. Well, there are also some other kayaks and fishing boats on the lake. It is not easy to find a secluded place for a photo session the way we like it.
We rowed stubbornly along the entire lake and finally our patience was rewarded – we found a place for our session. But we had to hurry anyway, because not far from the shore there is a popular cycling trail and we did not want to be surprised by random walkers.
---
For several years, part of our holidays is kayaking on a river, camping every night in a different place in a tent.
This year we are kayaking on the Krutynia River. The uppermost section of this beautiful river runs largely through lakes. Hence, there is a lot of rowing.
Sometimes we find an interesting place, then we stop there for a short rest. Today we took a break in a tiny bay hidden under a steep cliff that could be accessed via a narrow path.
The rest of our canoeing team went swimming in the lake and we were left alone for a while. We knewn how it would end, M quickly dropped her skimpy outfit and I quickly climbed the slope, from which I had a wonderful view of the lake and the M guarding the canoes.
Then I started to shoot.
Unfortunately, this beautiful moment did not last long. The rest of the kayaking team soon returned and we had to finish our photo shoot even though it had just begun. Well, we managed to take a few photos.
See for yourself.
---
Marzka, 2022-07-23, Rejentówka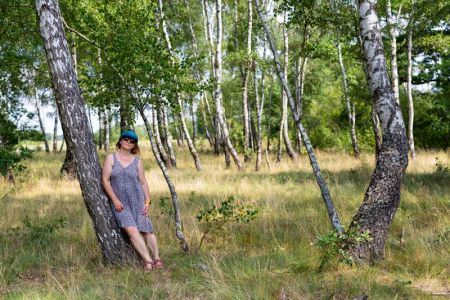 The next day, after the session with Ania, we set off to beautiful meadows with my M.
We have our own private clearing in a birch grove hidden away from roads and paths. This is where M takes off her dress and begins her subtle dance with the birch trees.
I stand aside and silently take pictures.
The weather is beautiful, warm, the sun is already quite low, but it is still far to sunset. It would definitely be better to photograph during the golden hour, then my muse would be bathed in golden light, but it is not always possible to choose the time for the session.
This is just the beginning of the vacations, M does not have a Mediterranean tan yet, we will have to repeat this session at the end of August or September. But at least this time I'm not photographing with the phone, but with heavy equipment. It is not easy to carry it, but it is worth the effort, you can clearly see the details of this beautiful summer meadow in the pictures.
And that colors!
---
After a year's break in photographing models, I manage to arrange a session with Ania.
We are with Marzka at the ranch for four days, Ania is coming to visit us on Friday. It's a beautiful day, warm, the sky with no clouds. It is very hot during the day, but fortunately we will be active just before sunset.
We haven't seen each other for a long time, so at the beginning we sit in the armchairs under the pine trees, drink something cool, talk about this year that passed so quickly.
I look at my watch – we have to get ready, the sun will not wait for us. We must make it to the Rządza river before the golden hour begins. We do not know yet where exactly we will be shooting, we have to find a deserted place.
Luckily it is not far away.
Ania goes into the water and poses in the sunset. He changes clothes every few minutes, we want to have plenty to choose from.
We work tirelessly until the golden light fades.
You have to go, it was a great hour for both of us.
---
It's a beautiful day in July. We wander the endless meadows of Rejentówka and pass by a large, old oak that stands not far from the dirt road.
The oak casts a shadow over the grass nearby.
And what if Marzka were to stand in this shadow, hidden behind a thick trunk from the sight of people walking the road only 20-30 meters away?
Let's try!
The tall and dense grasses growing around the oak must be enough for a makeshift changing room, or rather a dressing room. M doesn't have a lot on so it doesn't take long to shed it. We quickly take a dozen or so shots against the background of a monumental trunk. People walking along the road probably think that I am photographing a tree. It is good that they cannot see M who is posing hidden behind a tree with a smile.
It was a good idea with a nice and quick implementation.
---
Marzka, 2022-07-09, Rejentówka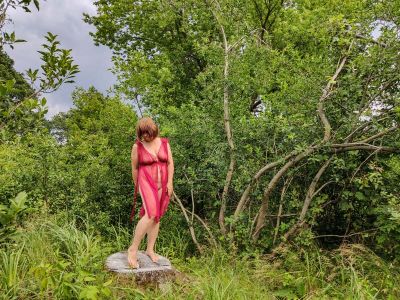 Today session on the trunk.
We find a fresh trunk after a felled tree. The trunk is very large, almost like a table.
We are among endless meadows and our trunk is surrounded by a small clearing. It gives us some intimacy and a veil from some alien eyes.
We have some gadgets with us, Marzka puts them on one by one.
When it stands on the trunk, she looks like a statue.
There are a lot of nice shots, it's a pity that I don't have my DSLR camera with me and I only shoot with my phone. I didn't feel like carying it and now I regret it. This will have to be repeated with decent equipment.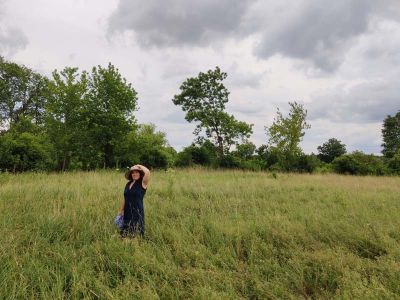 But it's not over yet.
The sun is getting lower and there is nobody in the meadows but us. We leave the clearing with the trunk and go out to the open area. M puts on a navy blue button-up dress and a hat.
The front zip-up dress is a great addition to the session. Adjustable closure can be very sensual. At the same time, such a dress gives the model comfort in the situation when suddenly some hiker appears.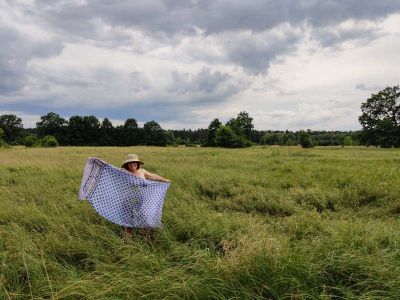 After the dress, it's time for a scarf.
She wraps herself and begins her dance. A scarf and hat are a great set, but the dress and hat are probably the best. Well, after all, this is a classic woman's outfit.
It was a very successful evening. One photographer, one model, three sessions.
And there were no mosquitoes
---
Marzka, 2022-06-19, Rejentówka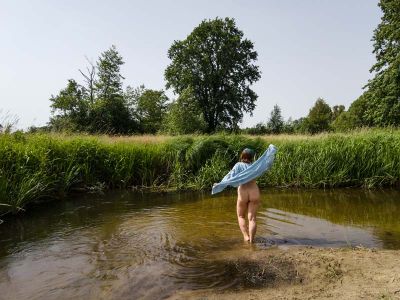 The hot summer finally begins.
We spend the first weekend in Rejentówka after a short vacation in Munich. It's hot, a lot of people come to the river to cool off a bit. We, as always, are looking for peace, quiet and solitude. We have to wander quite a long time before we finally find a lonely place.
A small empty beach at the bend of Rządza is waiting for us and lures us with a bit of white sand and cool water. It is surrounded on all sides by tall grasses. We hope that even if someone passes the dirt road near our beach, they won't notice our little paradise.
We quickly drop our clothes and plunge into cool water. A wonderful feeling after walking for so long through meadows where there was no shade.
Encouraged by the atmosphere of this place, we make a quick photo session. We don't have our photo equipment with us, so the phone is my tool again. There is no plan either, but M is full of ideas as always, so we manage to get some nice shots.
Then another bath to cool down the hot bodies and senses. We quickly dry in the sun, get dressed and go back to the ranch.
---
Marzka, 2022-06-18, Rejentówka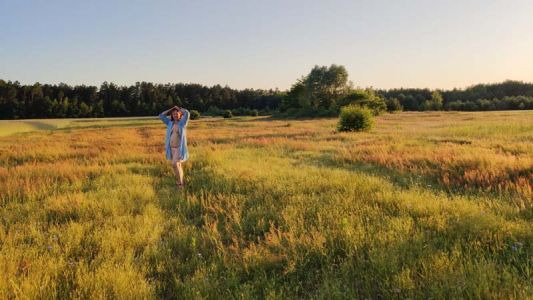 We went for an evening walk to the meadows.
Despite the lack of wind, there are absolutely no mosquitoes. I guess it inspires us to a short session.
The setting sun paints the meadows in unusual colors.
It is very warm and we are alone, it is wonderful.
This session was not planned, I only have a phone with me, it must be enough for me. Unfortunately, it is already quite dark and the photos from the phone are of very poor quality, in such a situation the difference between the phone and the DSLR is huge.
Maybe next time it will work.
---
Wrocław is our intermediate point when traveling from Munich to Warsaw. It is a distance of over 1000 km, of course, it can be covered in one day, especially when there are two drivers, but we prefer to divide it into two stages. This is where these unforgettable short stays in beautiful Wrocław come from.
We arrive around 5:00 pm, this time we will spend the night in an apartment near the river, two kilometers from the old town. A nice walk to stretch your legs after a few hours in the car. We spend the rest of the afternoon and evening strolling around the Old Town, bridges, we visit Polish Lody – famous ice cream shop.
In the morning we have coffee, small breakfast and then, before we leave the cozy apartment, we have a quick photo session in a new environment. I'm shooting with my phone, why not, since the model poses so beautifully, it is a pity to lose the opportunity for photos.
We set off for the city again and continue walking until late afternoon. Then we go back to the car and drive home.
I like Wrocław.
---
Marzka, 2022-05-02, Rejentówka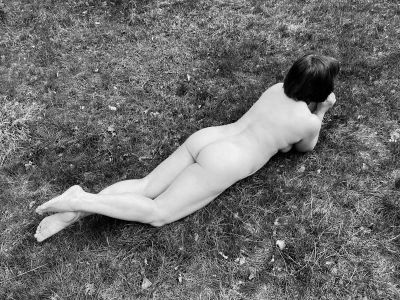 It's finally May and it's warm.
Usually, during the May long weekend, we do not go to any popular places, because everyone else does. We set off somewhere close to where it is empty.
This time it is a hike in forests and meadows near Radzymin. Our walk is over 12 km. It is warm, the sun is shining beautiful, it is fun to walk.
At some point, we reach a fairy-tale clearing hidden in the forest. May green is so juicy and fresh.
Marzka says we will be taking pictures here, so we do! Fortunately, everyone is in the mountains, at the seaside and in Masuria, so no one disturbs us.
The session is short but intense, after a few minutes we have a lot of nice shots. We are well organized team. Lets go, there are still many kilometers ahead of us, before we reach the car.
---
Studio again today.
Encouraged by what we managed to achieve in the previous session, we are doing a dark session again, but this time with two flashes.
Both lamps come without softboxes, the main one has a honeycomb front that creates a nice narrow beam of light. The second lamp only gently illuminates the dark side.
The photos are different than before. The light from the second lamp changes the character of the shots. Marzka, as always, poses with great commitment, helps me to implement ideas on how to harmonize light with her body.
I still don't know how many flashes to use on next studio session – revert to one, stay with two, extend to three? To my taste one flash setup created better results then two flashes. Maybe I should try more different combinations.
---
February is still winter.
Outdoor posing requires frost and snow resistance for both model and the photographer. Today we don't feel like it, so we choose the studio.
It is natural, that in winter we take photos in the studio and at some point we start to miss summer and the outdoors. Then comes the long-awaited summer and we start outdoor sessions. In autumn the circle closes, we are fed up with outdoor activities, we want to spend time in a studio and to try some indoor ideas that we came up with in the summer.
Today, photos that emerge from the dark. I take pictures with one light source, without a softbox. I only put an overlay on the lamp, which creates a narrow beam of light. It is not a classic spotlight, but a spontaneous self-construction.
The effects are very interesting. This will have to be repeated and enhanced. I should try both more light sources and different modificators to light her body.